Hello, music-loving friends and neighbours!
Next folk club is MONDAY, SEPTEMBER 28TH, 7pm.
I hope everyone who attended folk club in August had as much fun as I did. We have such lovely and talented people in this area, it was a delight.
We bumped into a common trap of Folk Clubs everywhere, however, illustrated very well by this old cartoon: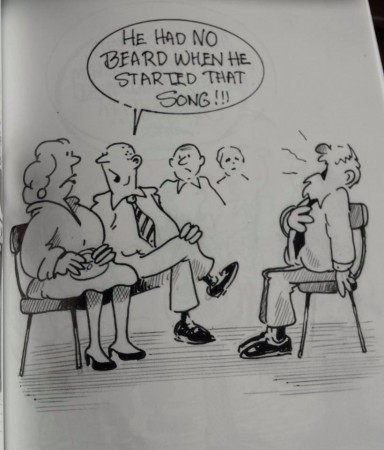 In order to keep things flowing smoothly on club nights, we're going to have to ask that floor singers keep their two numbers to around a total of 6 or 7 minutes total. It's a matter of courtesy for our other floor singers and guests. If you have a beautiful song that you must absolutely share, but it takes 10 minutes to sing it, we'll ask you to limit your set to the one song, and if you can speed it up just a tad, everyone would be grateful.
We have settled recently on the last Monday of the month for our clubs, but I have been getting feedback from locals saying there are a lot of other things on that night, and they are sad because they cannot attend folk club. I also have been struggling with artists who wish to play the hall on non-folk club nights. This is bumping against my increasingly busy schedule. So please be understanding if our schedule varies a bit from month to month. I will try to keep you informed via e-mail, posters put up locally, and on whangateau.co.nz.
Whangateau Hall Committee has said farewell to long time secretary Doug Guthrie. If you would like an opportunity to become more involved with the local community, please consider joining the Hall Committee. Contact me for more info.
Jenine