7:30 pm showtime
$10 on the door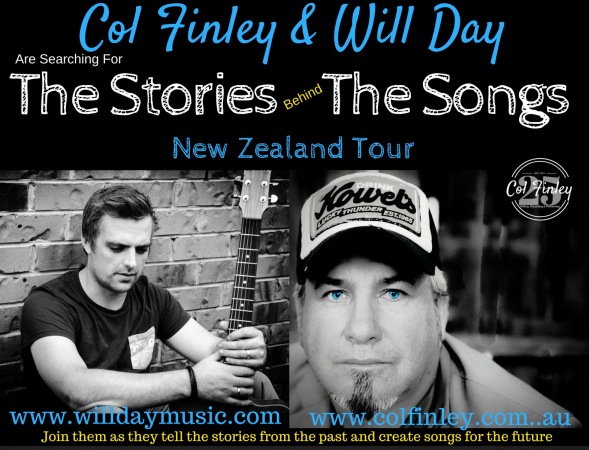 Australian country music recording acts Colin Finley and Will Day are touring New Zealand with an acoustic duo show. They will be playing at Whangateau Hall on Saturday, May 6th, supported by our own Pipi Pickers. Tickets are only $10 for this show. Doors open at 7:15 for a 7:30 show time.
"In a 22 year Career Col Finley has proving his strength as a songwriter and performer by writing and producing some of the best albums of songs and vocals in the industry today." – Cameron Syrett
Over the Past 6 months, Col Finley has dominated the Australian Music Charts with his latest single "Above The Blue" gaining #10 on the Australian Music Charts, #9 on the Country Music Charts, and #7 Country Music Most requested. His 2nd Single "Rich With Friends" reached #9 on the Country Music Charts, and the Col Finley album "Before The Storm" smashed The Aria Album Charts reaching #3 on the Aria Aussie Album charts and #5 on the Aria World Country Album Charts.
Brisbane based singer-songwriter Will Day is the next generation of Australian country music. With the ability to play, write and perform at a level his peers' rate, Will is one of the hardest workers in the music industry. Performing up to six shows a week, Will is striving for the best life for his young family. His drive and passion for his craft shine through every song and every show.
Supported by Whangateau's own Pipi Pickers!