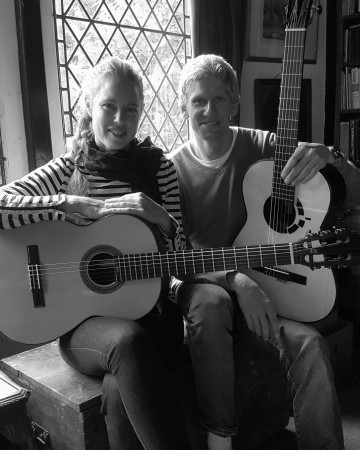 A very special concert
Polish guitarist and composer Marek Pasieczny and New Zealand classical guitarist and lecturer Jane Curry bring an evening of fine original and classical guitar music to Whangateau Hall on 2 September.  Doors: 7pm.  Tickets $25 at the door, or book online.
Marek Pasieczny
Internationally award winning guitarist and composer Marek Pasieczny is one of the most influential and respected contemporary composers writing for the guitar worldwide. Pasieczny holds three Master Degrees in music from the Royal Conservatoire of Scotland in Glasgow, UK (for composition and performance with distinction) and "Karol Lipinski" Academy of Music in Wroclaw, Poland (for performance with distinction). In 2010, Pasieczny began a combined doctoral degree in composition and performance in Australia, before returning to Europe in 2012, continuing his PhD at Surrey University in Guildford, UK. At the same time, Pasieczny has taken up lectureship in composition and orchestration at the university. As a composer, guitarist, lecturer and adjudicator Pasieczny has appeared regularly at festivals in Europe (Poland, France, Germany, Czech Republic, Greece, Bosnia and Herzegovina UK, Italy), Asia (China, Japan), Australia, New Zealand and South Africa.
Pasieczny has composed for and collaborated with such musicians as : Pat Metheny (CD "Upojenie"), Odair and Clarice Assad, David Russell, Roland Dyens, Carlo Domeniconi, Ana Vidovic, Pavel Steidl, Eduardo Catemario, Gabriel Bianco, Krzysztof Pelech, Duo Melis and many others. Premieres of his works have been performed in venues such as: Lutoslawski's Hall in Warsaw, Poland; Royal Albert Hall and Wigmore Hall in London, UK; Carnegie Hall in New York City, USA; Canterbury Cathedral in Canterbury, UK; He Luting Hall and He Lv Ting Hall in Shanghai, China. In 2012, Pasieczny became a D'Addario artist and featured on the cover of the prestigious Classical Guitar Magazine.
Dr Jane Curry
English born New Zealander classical guitarist Jane Curry is lecturer in music at Te Koki New Zealand School of Music, Victoria University, Wellington. She is a highly sought after soloist, chamber musician and educator, with her students achieving high honours in their studies and regularly winning competition prizes and scholarships as they develop their professional careers. A concerto soloist with the Kapiti Concert orchestra and the Nelson Symphony, Jane is also involved in a number of chamber music collaborations including the New Zealand Guitar Quartet: with career highlights including the New Zealand premiere of the Concerto Andaluz by Joaquin Rodrigo with the Nelson Symphony (performed also with the National Capital Orchestra, Canberra, Australia), busy tour schedules with Chamber Music NZ and Arts on Tour, concerts in the Adam International Chamber Music Festival, the Southern Lakes Festival of Colour and Christchurch Arts Festival. She is also a member of Trio Archi D'Amore Zelanda – a string trio consisting of viola d'amore and cello currently working on projects that include travel to Poland for the International viola d'amore Congress, commissioning new works and recording a collection of Baroque and contemporary works.
During her studies in the USA she placed in several international guitar competitions including 1st Prize Beeston International Guitar Competition (University of Arizona), 2nd Prize Portland International Guitar Competition (Oregon) 2nd Prize California Guitar Panorama International Competition (California), 3rd Prize Rantucci International Guitar Competition (New York), and has been the recipient of many scholarships including the prestigious Creative NZ Jack McGill Music Scholarship (NZ), the International Arts Foundation Scholarship (NZ), Waikato Trust Arts Scholarship (NZ), Medici Scholar (University of Arizona) and a Creative NZ grant. She has performed in New Zealand, Australia, England, Scotland, Spain, Mexico, Tahiti, Canada, and throughout the United States.
Program:
Marek Pasiezcny Polish Impressions/ selections
UMARŁ MACIEK
CZERWONE JABŁUSZKO
W MUROWANEJ PIWNICY
W MOIM OGRÓDECZKU
GAIK
W POLU LIPENKA
CICHY ZAPADA ZMROK
Marek Pasiezcny – Sakura No Hana
Maria Grenfell (New Zealand) – Di Primavera
Intermission
Anthony Ritchie (NZ) Pas de deux by (1992)
Marek Pasiezcny – Arvo Pärt Variations
Marek Pasiezcny – Polish Sketches