Club Night with special guest Rachel Dawick. 7:00 pm. $15.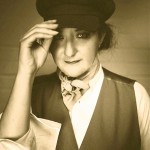 Summer NZ Tour 2017 "A Penny Plain & Two Pence Coloured"
NZ Tui Award Folk Album Finalist 2015 "The Boundary Riders"
"The Boundary Riders is an invaluable body of work that traverses genres and captures the untold stories of Kiwi pioneer women.." NZ Herald September 2014
This summer Rachel Dawick (www.racheldawick.com) returns after a year in the UK to preview the songs from her coming new album release "A Penny Plain and Two Pence Coloured" touring across NZ from the 27th Jan – 7th March 2017.
'A Penny Plain & Two Pence Coloured' retraces the steps of the Boundary Riders to the streets of Victorian London bringing the worlds of Toy Theatre, Folk, Storytelling and Musical Theatre together as the working class begin to tell their tale… a melting pot of sounds and smells of Industrial Britain. This album follows the true account of Henry Mayhew who in the mid 1800s took to the streets to interview the London Poor releasing these interviews as part of a series of articles in the Chronicle Paper and later as a four volume book entitled "London
As a special preview special Rachel will have a new solo album for sale as part of this pre-release tour including some of the songs from the forthcoming album. In March Rachel returns to the UK to record the new album with the fabulous UK Band Faustus (www.faustusband.com) before releasing the new album in September 2017 in NZ and returning in November for another second tour this time as part of a new album release tour. She will then be welcoming Faustus over in NZ for a for a full music tour including a few special concerts of the music from the new album – look out for details on her website www.racheldawick.com in the coming months.
Rachel's last album & book 'The Boundary Riders' since its release on 19th September 2014 has taken her on a musical journey from Tui Award finalist for best NZ Folk Album 2015 to being selected as one of forty Musical Theatre works to be presented at the BEAM festival in London on 8th & 9th March 2016 – a showcase of emerging British Musical Theatre Writing. This led to her being invited to join BML (Book Music Lyric) as a lyricist at RADA in London to develop her skills in Musical Theatre Writing with Tim Sutton, Jason Carr and David James.
2016 has seen Rachel spending her time between working at Halsway Manor National Folk Arts Centre in West Somerset developing their education and outreach programme and linking in with fabulous UK Folk artists including the band 'Faustus,' and travelling to London each week writing with different composers producing new Musical Theatre songs to bring together these two worlds of folk and musical theatre.
Her songwriting crosses boundaries covering a range of folk, blues, country, gospel, cabaret to French chanson. This summer tour will highlight the range of her writing and her love of musical styles and all the stories that she has picked up along the road as she travels the world in true troubadour fashion. Stories of love, of war, of our environment, of history, of life.
Her previous album 'The Boundary Riders' followed the journey of a range of infamous characters whose names largely unknown in our history pages revealed stories that would slip easily into any Wild West Adventure Book. From prostitutes to missionary wives, goldminers to magicians, these beguiling tales of conquests, survival, persistence, and the merging of peoples and cultures from far distant lands have all given birth to New Zealand as we know her today.
Reviews (www.racheldawick.com for more)
"Wow! What an inspirational woman! No, I'm not talking about the colourful characters of Rachel Dawick's album The Boundary Riders – Musical Tales of New Zealand Pioneer Woman; I'm talking about the artist herself. Not only has Dawick set about giving a voice to the forgotten forging women of our country; Dawick has also raised funding, travelled the nation cycling 2000kms to dig up the stories of our pioneering past… truly inspiring. Delivering a beautifully packaged album and subsequently a book also; The Boundary Riders delves deep into our past and gives weight to the lives of ladies untold, like Barbara Weldon, Elizabeth Colenso and Amy Bock. Split over two discs, the rich narrative that Dawick has created is split into an album containing the show performance and songs and also the songs on a separate disc on their own so just can just get into the excellent down-home NZ folk, blues-country and at times Bluegrassy feels.
"There's a stunning display of song writing and musicianship on display here with everything from saloon-drawl groove to spicy bhangra melodies. Dawick is not alone in her musical prowess she is accompanied by Jon Sanders, Dave Kahn, Chris Koole, Andy Laking and the delightful Steve Bretel as the Narrator of the show; bringing a well-rounded group from various musical backgrounds to create one unique and important whole.  A real earthy and important NZ album to check into" Muzicnet
————————————————————–