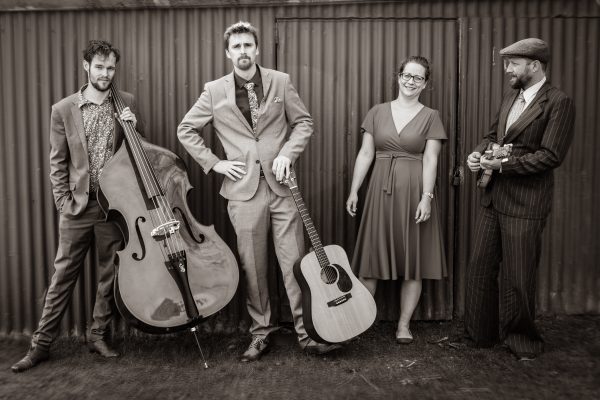 The Frank Burkitt Band return to Whangateau after their memorable debut performance there in January 2017. This show is part of their 30 date 'Lost but Alive' NZ Tour.
Frank is a story teller, songwriter, singer and guitarist. In that order. His rambling anecdotes aim to give the audience more of a connection with his songs. A folk songwriter at his core, American roots music with hints of jazz, blues and swing very much shape his music.
When he relocated to Wellington from Edinburgh with his partner and backing vocalist Kara Filbey, he formed The Frank Burkitt Band, with blues and country mandolin player Cameron Burnell and jazz double bassist James Geluk. This mix of styles and genres gives their show unique variety, alongside tight knit harmonies and well crafted arrangements.
2019 will see The Frank Burkitt Band embark on the longest tour of their lives. From January – June, they intend to take their music all around New Zealand, Australia and the UK. Yes, they are quite ambitious and slightly unhinged. They will be releasing a new live EP to coincide with their touring adventures.
Wednesday, 6 March, 7pm.  $15.