Our Club Night this month is going to be shifted to WEDNESDAY, because of some scheduling conflicts.  We will return to our usual last Monday in November.
Date: Wednesday, 28 October 2020
Time: Doors 6:45, show start at 7:00
Format: Club night, first half floor singers, Guest after the interval.
Cost: $15 online or at the door. Buy Tickets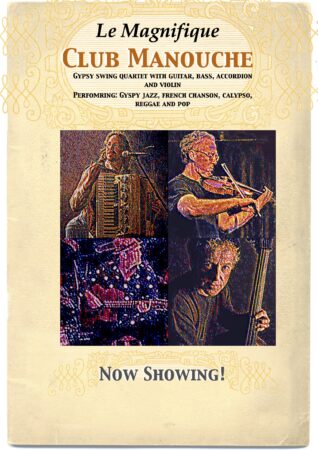 About Club Manouche:
Featuring Professor James Sneyd on violin, Craig Denham on accordion and vocals, Steve (Happy Days) Sherry on guitar and Peter Scott on bass and vocals Club Manouche play a lively set of gypsy swing classics mixed with an eclectic selection of odd sorts. With the tangible camaraderie of seasoned players and long friendships their performances are filled with passion, gusto, a sense of humour and mischievousness and they're not beyond taking a well known tune down the wormhole of contagious improvisational outbursts to see whats there.