Learning from the excitement of Lonely Heartstring Symphony, we have set up bookings for Esther Swift and10 String Symphony.
Esther Swift is our guest at our next club night, 26 February, Monday.  Floor singers first half.  $15, doors 6:45pm.
"Esther Swift uses the harp less as a heavenly instrument and more a bold alternative to the acoustic guitar. Swift's voice is sultry, settling and sensuous as she sings with confidence and a wry smile. There's an organic quality to her playing as she veers dramatically from poised, fluid and precise movements to rich, dark and sweeping bass notes."
Whangateau Hall is the last stop on Esther Swift's tour of New Zealand which has included the Auckland Folk Festival and Aongatete Folk Festival, and points all over the country.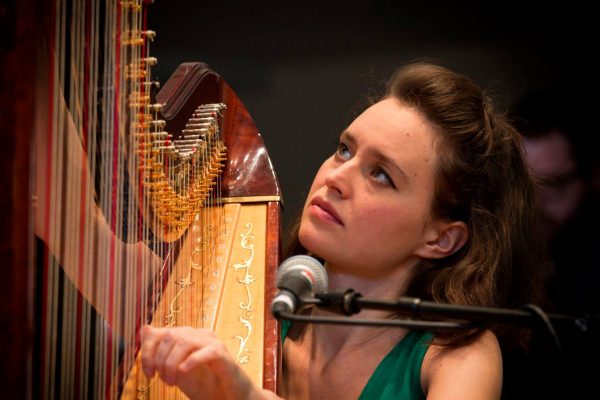 Esther Swift


10 String Symphony will be playing a full concert with support by The Pipi Pickers on Thursday, 8 March. $15, doors 7pm.
Nashville duo 10 String Symphony began as a partnership of mutual admiration­­ for Rachel Baiman and Christian Sedelmyer, two 5­string fiddle players and veteran sidemen of Nashville's music scene. Rachel, a former Illinois state fiddle champion in the old time tradition, needed an outlet for the new sort of songs she was writing, while Christian, originally a classically trained violinist, now a current touring member of the Jerry Douglas Band, was looking to get in touch the impetuous spirit of the rock bands he played in before his arrival in Nashville. Two fiddles. Two Voices. Epic music.