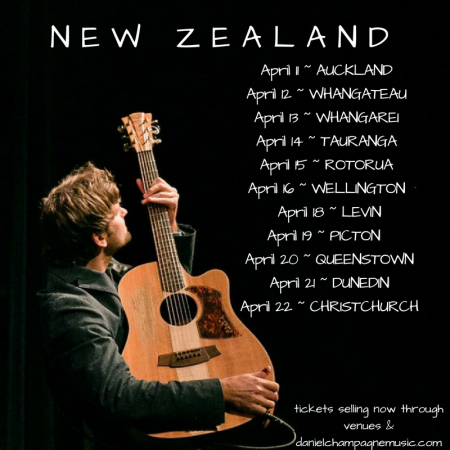 Australian Singer songwriter and guitar virtuoso Daniel Champagne will bring his Snap Shot Tour to New Zealand this April for his most extensive tour in the country to date. With his captivating performances, characterized by his beautiful lyrics and unique guitar style, Daniel will enchant audiences from Auckland, to Christchurch, and everywhere in between.
"Daniel Champagne exudes a natural ease on stage, as he sings poignant lyrics and beautifully crafted melodies that invariably whisk the heart up with grand romanticism. Coupled with an exhilarating guitar talent that transcends mere acoustic playing to replicate a whole band, Champagne is just magic." ( themusic.com.au )
Daniel Champagne is established as a world class and internationally renowned performer. How many Australian-born artists can spend the majority of their year touring the globe and selling out show after show in North America, Canada and Europe? And doing it tour after tour after tour?
Not many is the answer.
Whangateau Hall plays host to Daniel Champagne on Thursday, 12 April. Show starts at 7:30pm with special guest local musician Oliver Bones. Tickets are $15, available at the door or through Eventbrite.