Anthony John Clarke to play Whangateau Hall
and opportunity for a young local performer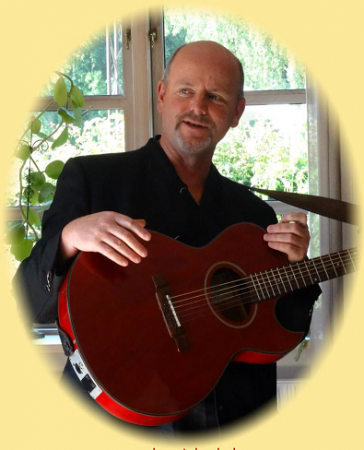 I've just learned that the Irish singer and songwriter Anthony John Clarke is playing the final concert of his latest New Zealand tour at Whangateau Hall on the 21st of February at 7:30 pm.
From Belfast, Irish singer/songwriter A J Clarke started writing at the age of 9 inspired by the 60s hits. His last visit to New Zealand was in 2011, he returns with a host of albums and a songbook. A gentleman, he has been warmly welcomed on his many tours of the UK, Europe, Australia and the USA.
The Belfast Telegraph described him as "A born comic and a keen observer of the idiosyncratic; Brilliantly original. Magnificent."
Folk Group Fairport Convention claimed him as "…. a National Treasure."
Irish musician Colum Sands describes him as "the real drop."
You can learn more about him at www.anthonyjohnclarke.com.
Tickets are $15 for adults, $6 for students (13 and up). Children under 13 are free.
If you are a local young solo or small group performer interested in doing a 15 to 20 minute warmup set for Anthony, please e-mail Kevin Meehan at harrier@paradise.net.nz.
Not too late to see Tattletale Saints!
Did you miss Tattletale Saints at the Hall? You have a second chance to see them, and the best part is it's FREE. They will be playing at the new Matakana Vintage Market Sunday Sessions from 1:00pm to 3:00 pm on Sunday, February 15th.
Folk Club Night
Get out your guitars and warm up your voices for the next Folk Club Night on Wednesday, February 26th. Doors open 6:30. Floor singers from 7pm to 8pm. After a short break for tea and bikkies the Pipi Pickers will play a couple numbers then lead anyone interested in an informal and fun bluegrass jam. If you've ever wanted to learn more about bluegrass picking and try your hand in a jam session, come along.
The Pipi Pickers are coming back after hosting an extremely successful bluegrass hospitality tent at the Auckland Folk Festival where their "pickin' parlour" jam session was joined by many of the festival guest performers and expert pickers from all over New Zealand and Australia. Festival attendees kicked back in the hospitality tent comfy chairs and beanbags enjoying that sweet bluegrass music until very late every night. Find out what it's all about and join in the fun on the 26th.
Entry to club night is $5.