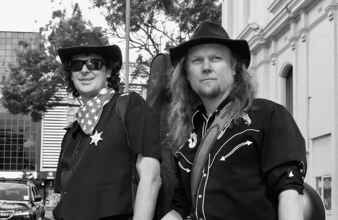 What do you get when you combine a wild, hard drinkin', country rock singin', lunatic, with a clean livin', folk pickin', Renaissance Man…. You get the hot new Auckland Americana group 'Wilde Taylor'.
New Zealand Musician magazine wrote … "all up it's an appealing package of mid-life, mid-American country-blues, done Kiwi-style with laudable conviction and attention to detail."
This summer the boys will be on tour up and down the North Island to promote their new album 'Broadway Cowboys'. So if you are a fan of Americana music you have got to check out this hot new duo.